Multi BIMC UCI Int. Champion Taban Bohemia Genao, CM x Fellouja
This litter combines outstanding bloodlines from North Africa.  These puppies will be 50% desert bred Moroccan, 25% desert bred Tunisian, and 12.5% desert bred Libyan.  Both parents are Optigen tested NORMAL for PRA.  Neither of them carries the gene for Sloughi PRA.  See full pedigree here:  http://pawpeds.com/db/?a=p&ids=3:894311;2:1143963&g=4&p=slo&date=iso&o=ajgrep
These puppies will be AKC FSS and FCI (Federación Canófila de Puerto Rico) registered and eligible for UKC registration as well.
Taban and Fouji produced five brindle girls, including both sand and red brindles, and two sand boys — one sand and one red sand.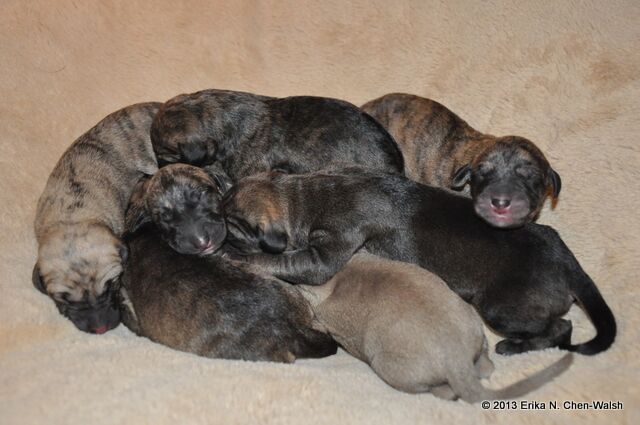 *  Their AKC FSS registration papers will indicate that they were born on December 24, 2013 because AKC will only allow one date of birth for the entire litter.