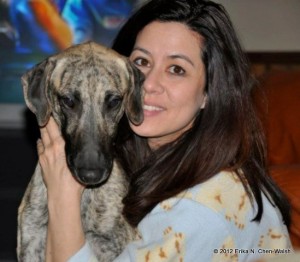 We love and exhibit the Sloughi, the rare breed of sighthound from northern Africa:  Morocco, Tunisia, Libya and Algeria, and we have imported more Sloughis from North Africa than anyone else in the U.S., in order to help diversify the American gene pool and to preserve the authentic, North African Sloughi.
The top-winning Sloughis in the U.S. for every year from 2005-2021, the first AKC Champion, the first AKC Grand Champion, the first AKC Hound Group placing Sloughis, Best in Miscellaneous Class (BIMC) and Certificate of Merit Sloughis, the first UKC Grand Champion Sloughis, the first Westminster Best of Breed Sloughi, and the most titled Sloughi in US history are all owned or bred by Ocerico Sloughis. We have owned and/or bred more AKC Group placing Sloughis than anyone else in the history of the breed in the US, including the top Best in Show winning (UKC) Sloughi in the United States. We are the only AKC Breeder of Merit Sloughi breeder, and we adhere strictly to the Code of Ethics of the National Parent Club, the American Sloughi Association.
Our Sloughis are not just show dogs, but family members who live in our home. For this reason, we breed only rarely, and our Sloughi puppies are lovingly raised under foot.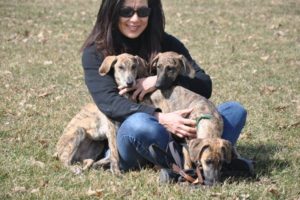 All of our Sloughis are DNA tested and OFA CHIC registered prior to breeding.   Our Sloughis do NOT carry the gene for long hair, which is not characteristic of the breed and is a disqualification in every permutation of the standard.
We have been involved with Sloughis since 1995 and have been active in sighthounds since 1987, including Sloughis, Afghan hounds, and Rhodesian ridgebacks.  We are active in the American Sloughi Association, the AKC National Parent Club for the breed in the United States.  Erika Wyatt is the AKC Delegate, Judges Education Chair, breed mentor, and presenter, approved by the American Sloughi Association.
Please select from the menu bar at right to learn more about the Sloughis of Ocerico, as well as Sloughi history, breed information, showing Sloughis and links to other great Sloughi sites and Sloughi breeders.