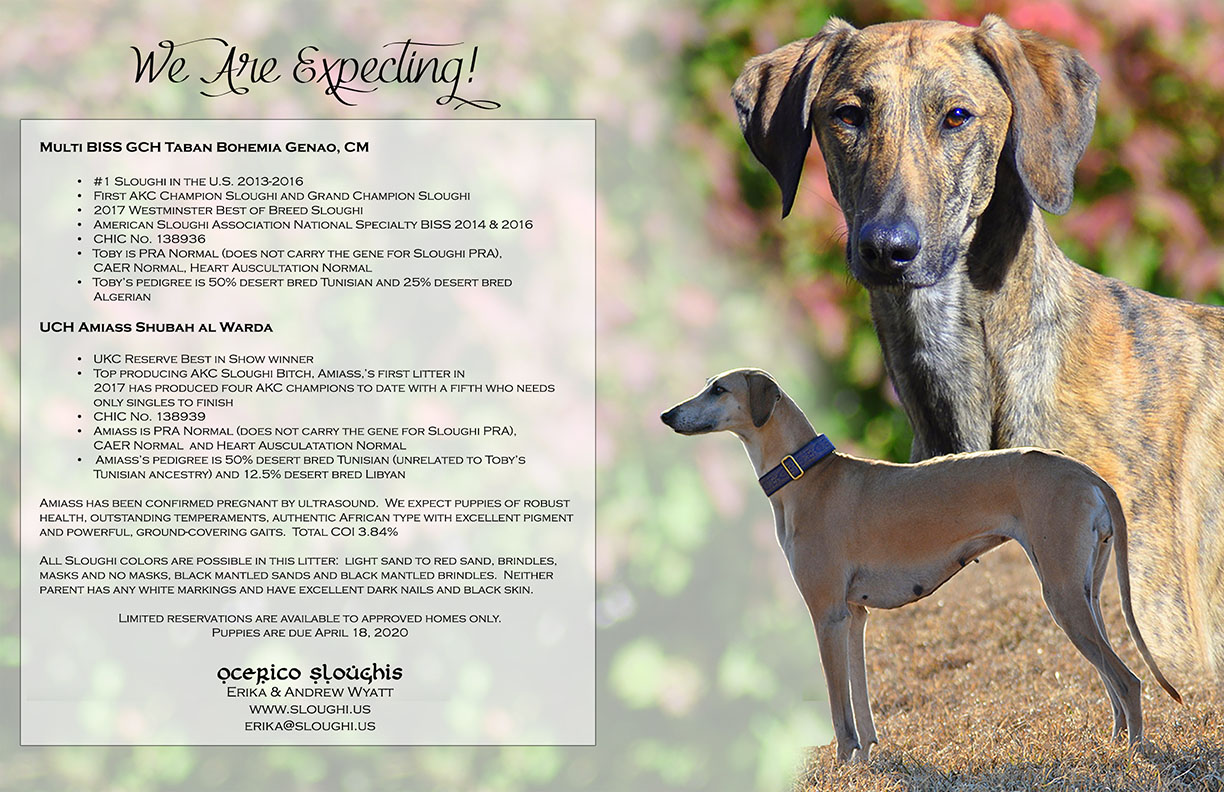 The F Litter has arrived!  Three strapping boys and two beautiful girls in a rainbow of gorgeous colors:  Ocerico Feija, Ocerico Fayaj, Ocerico Faijan, Ocerico Fezzan and Ocerico Farjana.  You can read about them at this link:  F Litter Updates.
We are extremely excited about these puppies and what they mean to the bloodlines in the United States as the puppies are nearly 70% desert bred (50% Tunisian and 18.8% Libyan).  The father, Taban, is 50% Tunisian, the son of a desert bred Tunisian male.  The mother, Amiass, is also 50% Tunisian, the daughter of a desert bred Tunisian female.  The Tunisian bloodlines of their parents are unrelated.  There are no other authentic Tunisian bloodlines being bred in the US today, so these puppies represent not only very rare, country of origin bloodlines, they also represent genetic diversity from North Africa that is desperately needed in the tiny US breeding population.
Both parents are OFA CHIC registered, PRA clear and had CAER certifications within 12 months prior to breeding.  Taban's hips OFA'd good at nearly nine years of age (OFA No. SLG-2G103M-VPI), and is heart auscultation normal (OFA No. SLG-ACA2/94M-VPI). His OFA health testing results can be seen here.  Amiass is also heart auscultation normal (OFA No. SLG-ACA6/72F-VPI).  Her OFA health testing results can be seen here.
We are very proud of the quality of this litter and what these genes bring to the American Sloughi population.
Although all puppies from this litter are already reserved, if you are interested in a future puppy from us, please contact us through the form below with any questions you may have. We do require that all potential puppy fill out our Puppy Buyer Questionnaire before being placed on our waiting list.  This helps us to determine if we might have a puppy that is a good match for your family.  You can click here to fill out our online Puppy Buyer Questionnaire.  We do not share the results of our contact form or our Puppy Buyer Questionnaire with anyone.
We normally have a waiting list prior to breeding a litter because we do not breed frequently. We are not accepting additional reservations on the F Litter at this time.  However, we are happy to discuss our future breeding plans. Please contact us to inquire.
For updates on the F Litter, please click on the link below: