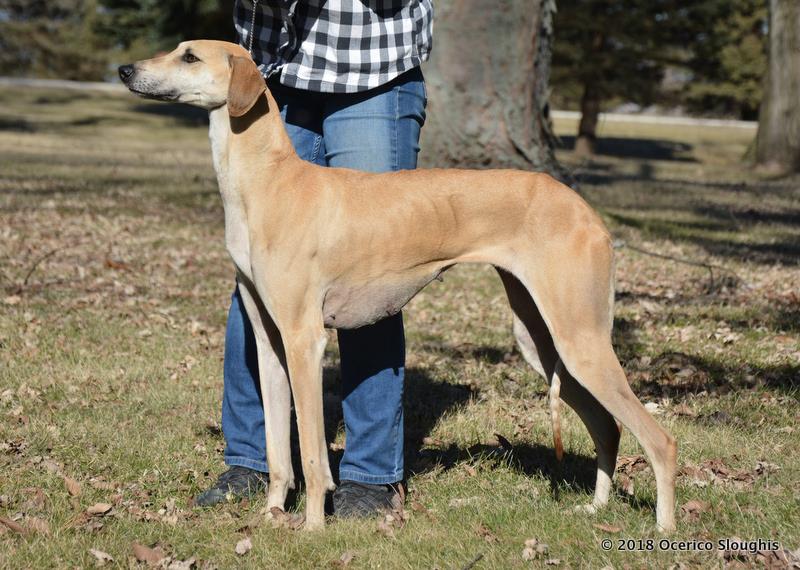 (CH Bersheba's Wahad x Chahrazed)
Red sand female born March 25, 2013
Amiass comes to us from my very dear friend, Ulrich Rosenzweig of Shubah al Warda Sloughis in Austria.  Amiass is 50% desert bred Tunisian, 12.5% desert bred Libyan and 37.5% European bloodlines.  She is an amazing girl with an exemplary character and she carries one of the highest percentages of Tunisian bloodlines of any Sloughi in the US today.
Amiass produced two beautiful litters for us, our E Litter, and our F Litter.
Amiass is OFA CHIC registered (CHIC No. 138939) and heart auscultation normal (OFA No. SLG-ACA6/72F-VPI).  She is PRA normal (does not carry the PRA gene).
Reserve Best in Show Winner
2 Bests in Group
Best in Miscellaneous Class winner
4 Bests of Breed
AKC Certificate of Merit Pointed
CHIC No. 138939
Amiass's full health record is publicly available on the OFA website here.
Amiass has been tested by Optimal Selection, Optigen (PRA), and Embark. Click on the image below to see Ami's full Embark results, which are publicly available online.