I have posted a lot of photos earlier this week already, and it rained all day here, which spoiled my plans to try to get some photos of them in the garden.  The puppies are changing so fast!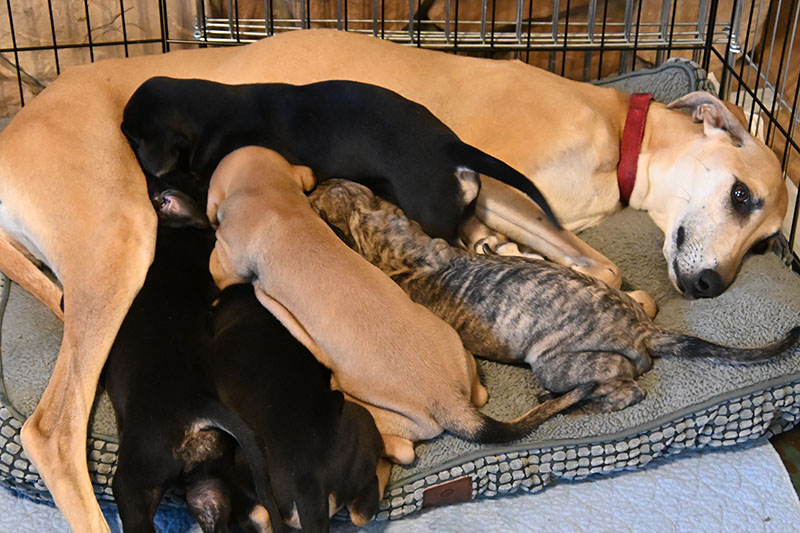 They are eating puppy gruel now, even though they are, of course, still nursing.  We have set them up so that Amiass can hop out whenever she wants to, but can also hop back in with them. They are equipped with full sets of needle teeth, so nursing is becoming less appealing to her.
Girl No. 1, whom we are naming Ocerico Feija, is a busy, bossy, brave girl who is often speaking her mind at her siblings and her mother… and at us.
Boy No. 1 is developing beautifully.  He has a gorgeous head, beautiful angles and he is all wrapped up in a fancy brindle coat.  He is a laid back puppy who is rarely at the center of the wildest ruckuses that happen throughout the day.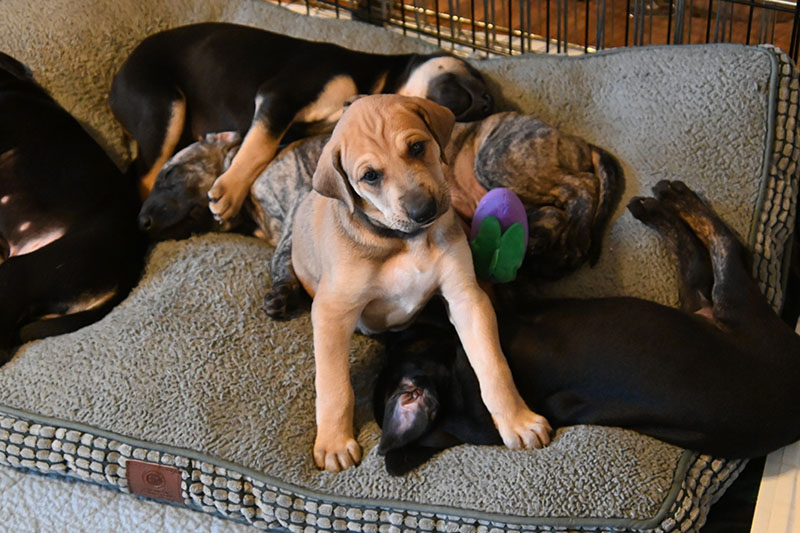 Boy No. 2, the red sand boy, is a real Prince Charming, and he leads the pack in terms of development.  He was the first to open his eyes, the first to taste food and he has been the first to get accustomed to his sea legs.  He is extremely extroverted and personable and will usually be the first to run and greet us.  (He was also the first one to let us stack him, but more on that later in this post.)
Boy No. 3 continues to wow us with his extremely exotic dark or black brindle under that glossy black mantle.  His pigment is excellent, and we love his typey expression and the shape of his head.
Girl No. 2, whom we are naming Ocerico Farjana, is also growing into a beauty.  Her sand is a lighter, clearer sand than that of her sister, and she has a lovely, affable temperament, and wonderfully typical proportions.
We have continued to get a lot of inquiries on this litter and we are so grateful for the level of interest and the positive comments that we have gotten on the puppies.  We are planning to keep probably either Boy No. 3 or one of the girls.  It is far too early for us to make determinations just yet, and honestly, all five are still contenders.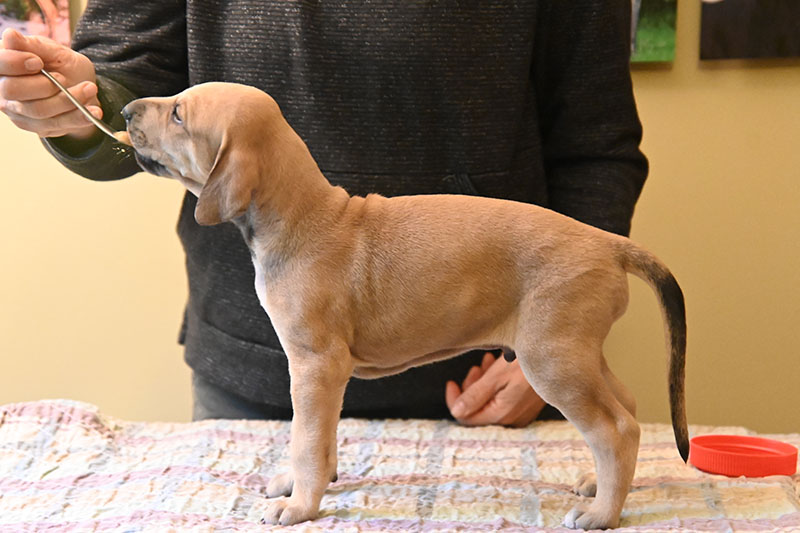 We did try to stack the puppies today and were unsuccessful.  Only Boy No. 2 allowed himself to be manipulated at all, enticed with a bit of peanut butter, and he held still for a couple of moments.  We are really happy with how he is looking already.
The rest of the puppies were bewildered by the insanity of us trying to get them to hold still, and Boy No. 3 was indignant that we tried to feed him peanut butter.  They are a bit young for stacking, but we will try again in the coming week and will be sure to post photos of their baby stacks as soon as we make some progress.
Speaking of the coming week, we will be spending time on new Puppy Culture exercises.  They will continue to be exposed to  a new object every day, and we will introduce some mildly frustrating challenges for them to overcome to help them learn problem solving skills in the face of frustration and anticipation.  I will also start with the clicker with them and try to teach them to mand.
The litter pan training is presenting a challenge.  Only Boy No. 3 seems to have taken to it on his own.  I hope to have better news about this next week.
I wish we could have people over to meet them, but with the pandemic, we are not ready to have people in our home yet. We had my parents over for a social distance picnic in our front yard on Saturday, and the puppies joined us for a short amount of time.  (It was chilly and they climbed into my lap and into my fleece and slept through most of the visit.)
We have updated their weight chart below.  Boy No. 1 continues to be the biggest puppy, and Girl No. 2 continues to be the smallest, but the differences between each of them and their closest siblings are small.
It is supposed to rain all day again tomorrow, but we will get some new photos just as soon as we can.  I did add a few from the weekend to this post in the gallery below the weight chart.
Wishing everyone a productive and peaceful week.
 

4/19/20

 

4/26/20

 

5/3/20

 

5/10/20

 

5/17/20

 

Girl #1

19

oz.

 

36

oz.

 

3 lbs. 5 oz.

 

4 lbs. 8 oz.

 

5 lbs. 14 oz.

 

Boy #1

20

oz.

 

37

oz.

 

4 lbs.

 

5 lbs. 8 oz.

 

6 lbs. 14 oz.

 

Boy #2

20

oz.

 

38

oz.

 

3 lbs. 11 oz.

 

5 lbs. 2 oz.

 

6 lbs. 9 oz.

 

Boy #3

17

oz.

 

33

oz.

 

3 lbs. 9 oz.

 

4 lbs. 14 oz.

 

6 lbs. 5 oz.

 

Girl #2

18

oz.

 

35

oz.

 

3 lbs. 4 oz.

 

4 lbs. 4 oz.

 

5 lbs. 7 oz.