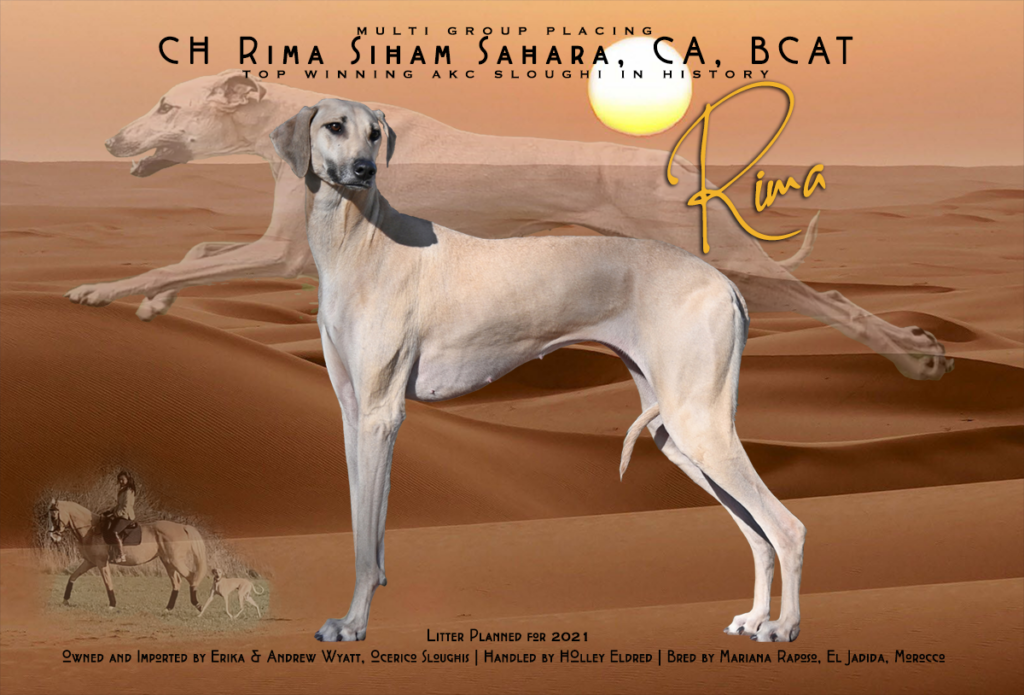 (Namir Siham Sahara x Nanah Siham Sahara)
Born February 16, 2019
Light Sand Female with Black Mask
On July 26,2019, we welcomed this gorgeous treasure from our dear friend, Mariana Raposo of Siham Sahara Sloughis, El Jadida, Morocco.  Rima is among the best Sloughis we have ever seen with a gorgeous, kohled expression, outstanding body proportions, beautifully balanced, scopey gaits, and an exceptionally calm and social temperament.  Rima made her show ring debut in in September 2019 and came out of the box with a bang, with three majors, twice going Best of Breed over the top Sloughi specials in the country for two 5-point majors.  At 7 and 1/2 months of age, she is youngest AKC Champion Sloughi in history.
By 13 months of age, Rima was the top winning Sloughi in AKC history
Six Hound Group placements before her first birthday!
2019 #2 Sloughi (all breed) and #3 Sloughi (breed)
15 Bests of Breed
Youngest Sloughi in history to finish her AKC CH (in two weekends!)
The 2nd AKC CA Sloughi in history (and the first female to earn the title)
Tied with our Sahara for being the first female Sloughi to earn the AKC BCAT title
We thank the judges who have appreciated Rima:  Mr. Robert Frost, Mr. Luis Sosa, Mr. John P. Wade, Mr. Thomas Alexander, Mr. Jerry Watson, Dr. Andrea Bradford, Mr. Thomas Kirstein, Ms. Karen Dumke, Mr. Frederick Vogels, and Mr. Richard V. Miller.